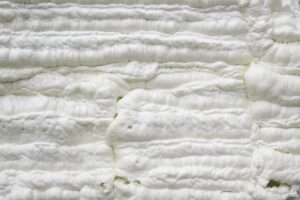 Ready to seal your home with Spray Foam Insulation this fall?  It's one of the most effective ways to improve the energy-efficiency of your home and reduce your heating bills as the weather cools.  These FAQs will help answer some of the questions you have about Spray Foam Insulation.
Spray Foam Insulation FAQs:
How long does Spray Foam insulation last?
Spray Foam insulation lasts indefinitely!  It is a long lasting polymer that is perfect for any residential or commercial structure.
Can Spray Foam insulation be applied under my house below my wood floors?
Spray Foam insulation can be applied under your wood floors or under subflooring.  This helps create an air seal and insulates the floor.  It also seals any cracks and holes where rodents, insects and spiders enter our homes.  The foam will protect your wood floors from soil moisture rising from the ground which can slowly rot your wood.
How does Spray Foam insulation control moisture movement and condensation?
The most damaging moisture within a building envelope cavity is the result of warm moist inside air being exchanged with the cold dry outside air within the walls.  As the moisture in the air condenses, it forms dew within the insulation.  Because foam insulation is an air seal, this moisture movement and condensation does not occur.
How does Spray Foam compare with fiberglass batts?
Fiberglass batts will not stop air leakage.  Spray Foam will stop air leakage dead.  Spray Foam is also mold and moisture resistant unlike fiberglass.  Fiberglass batts have an R-value of about 3.5 (1-inch thickness) but this is not a "true" R-value since there is no air seal. Open Cell Spray foam has a true R-value of about 4.0 per inch and Closed Cell has an R-value over 6 per inch. Fiberglass batts can sag over time and can leave gaps and small sections uninsulated. Spray foam completely adheres to wood and sheathing; the result is a permanent barrier to heat loss and air entry. In addition, spray foam will add strength to the structure where fiberglass batts will not.
How is Spray Foam insulation installed?
Spray Foam insulation is sprayed into place by a trained Good Life professional. As with any open surface, the foam insulation can be sprayed after electrical and plumbing services are in place. It can be sprayed in attics, walls, basements, and crawl spaces to greatly reduce air infiltration and provide a more energy efficient dwelling.
Have any additional questions about spray foam?  Visit our website to learn more.  You can also give us a call at 203-297-6337.  Our professionals will discuss any concerns you may have about your home insulation and help you determine what the best choice will be for your home.
Don't forget to follow us on our social media pages for more energy saving tips and insulation news.
LIKE us on Facebook
FOLLOW us on Twitter
ADD us to your circles on Google+
---