Polyurethane Spray Foam Insulation provides some of the best insulating performance possible by effectively minimizing the culprits that cause heat gain or loss in a home: convection, conduction, radiation, air infiltration, air intrusion, and moisture accumulation. Good Life Energy Savers uses best-in-class open and closed-cell spray foam insulation products that deliver significant energy savings and increased comfort.
Our high performance polyurethane spray foam is applied by our installation professionals who are certified and approved applicators. The foam is applied to walls, attics, basements, and crawls as a heated liquid which then quickly expands, completely filling every open space. It cures within seconds providing a thermal, sound and condensation barrier in a single application without seams or gaps.
R-Value & Air Leakage vs Fiberglass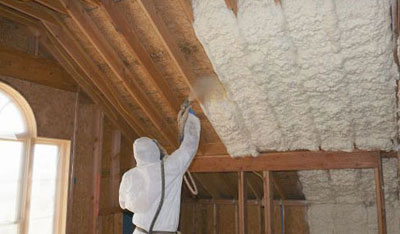 Fiberglass batts will not stop air leakage. Spray foam will stop air leakage dead. Spray foam is also mold and moisture resistant unlike fiberglass. Fiberglass batts have an R-value of about 3.5 (1-inch thickness) but this is not a "true" R-value since there is no air seal. Most Open Cell Spray foams have a true R-value of about 4.0 per inch and Closed Cell has an R-value over 6 per inch. Fiberglass batts can sag over time and can leave gaps and small sections uninsulated. Spray foam completely adheres to wood and sheathing; the result is a permanent barrier to heat loss and air entry. In addition, spray foam will add strength to the structure where fiberglass batts will not.
Spray Foam Insulation Uses
Spray Foam Insulation can be used in new construction and additions as well as in older homes as a retrofit product. For new homes, we typically use open and closed cell polyurethane spray foam to spray walls, attic rafters and roof systems, as well as basements and crawl spaces. In older homes, these polyurethane spray foams in the attic and basements or crawl spaces are a great complement to our Tripolymer injection foam in the exterior walls.
A Tight Thermal Envelope That Means Year-Round Comfort for Your Family
In a typical home, up to 50% of conditioned air is lost from gaps thus resulting in excessive heating and cooling bills. Our spray foam insulation system performs proficiently, dramatically reducing air leaks which results in a consistently comfortable home. It seals the nooks and crannies where dust and pollen can enter the home, creating a much healthier living environment. Our spray foam also helps prevent condensation, which is key in averting mold growth. Once applied, spray foam forms the foundation of a virtually airtight thermal envelope.
Bottom Line Benefits
Not only is a Good Life Energy Savers insulated home ultra energy-efficient, it will also save you money, provide a far more comfortable living space, and is ultimately worth more than the typically built home. Finally, your high performance home will also play a significant role in reducing our nation's need for foreign oil.
OPEN VS. CLOSED CELL SPRAY FOAM
As members of the Spray Polyurethane Foam Alliance (SPFA), we utilize various forms and brands of Spray Foam, with the main choices being open or closed cell. Open cell spray foam tends to be softer and can act as a good sound barrier as well as insulator. Closed cell spray foam is extremely strong and serves as an air and vapor barrier. We will help you decide on the best application for your home during our FREE consultation, answering any questions you may have.
Here are some of the differences between open & closed cell foams. We will use our expertise to recommend the best one for you, and may even suggest that you use a combination of both types of spray foam products in various areas of your home.
Open Cell
With any open cell spray foam, tiny cells of the foam are broken and air fills all of the "open" space inside the material. This makes the foam softer feeling than closed-cell foam. Most open cell spray foams have an R value of between 3.5 and 4.5 per inch.
Advantages:
more economical yield than closed cell
excellent thermal insulating and air barrier properties
effective as a sound barrier
Disadvantages:
softer than closed cell
"spongier" appearance than closed cell
lower strength and rigidity than closed-cell foams
Closed Cell
Closed Cell Spray Foam is the highest quality insulation for improving the performance of a building envelope. A single application creates an air, moisture, and vapor barrier that adds to the building's structural integrity. Closed cell spray foam is almost always preferred in basements and crawl spaces, because of its vapor resistance characteristics, and can also be used on walls and attics.
The tiny foam cells of closed cell spray foam are closed and packed together. They are filled with a gas that helps the foam rise and expand and become a greater insulator. Closed cell foam would be a good choice where small framing sizes need the greatest R-value per inch possible. One inch of closed cell spray foam has an R Value of between 6 and 7.5. Closed cell foam is also an excellent vapor barrier. Building Codes stipulate that a vapor barrier must have a water vapor permeance less than 1 perm. Many closed cell foams significantly exceed these standards.
Advantages:
strength
higher R-value
greater resistance to the leakage of air or water vapor
Disadvantage:
Denser; requires more material
Costlier than open cell spray foam
Don't Wait To Insulate!You Could Be Saving Hundreds On Your Energy Bills.
Get started with a FREE in-home estimate to explore your options & learn how much you can save with insulation from Good Life Energy Savers.
Call 203-297-6337 Now To Schedule Your FREE Estimate!