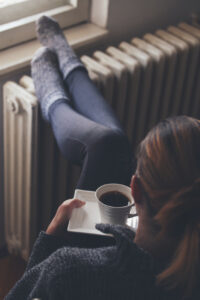 With the temperature dropping, everyone is looking for ways to stay warm and cozy. Before turning up the thermostat, homeowners should consider making a few home improvement updates! Home insulation can help keep your home warmer without increasing your energy bills.
How Does Home Insulation Keep You Warm?
Your attic, staircases, flooring, chimney, exterior walls, garage, windows, and doors are all common places for air leaks. This means that when the temperature drops outside, that cool, dry winter air will make its way into your home. These air leaks work both ways. As cool air leaks indoors, the warm, conditioned air can also leak outdoors. This lack of an air tight seal can leave your home feeling cool and have a significant impact on your energy bills.
Many homes lack sufficient insulation for the winter months – especially if you live in an older home! This November, it's time to check the walls and attic of your home for drafts and see if there are ways to improve the energy-efficiency of your home with insulation.
Learn more about Good Life Energy Savers and the services we offer on our website. You can also give us a call at 203-297-6337. Our professionals will discuss any concerns you may have about your home insulation and help you determine what the best choice will be for your home.
Don't forget to follow us on our social media pages for more energy saving tips and insulation news.
LIKE us on Facebook
FOLLOW us on Twitter
ADD us to your circles on Google+
---