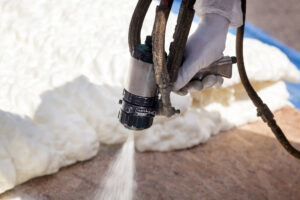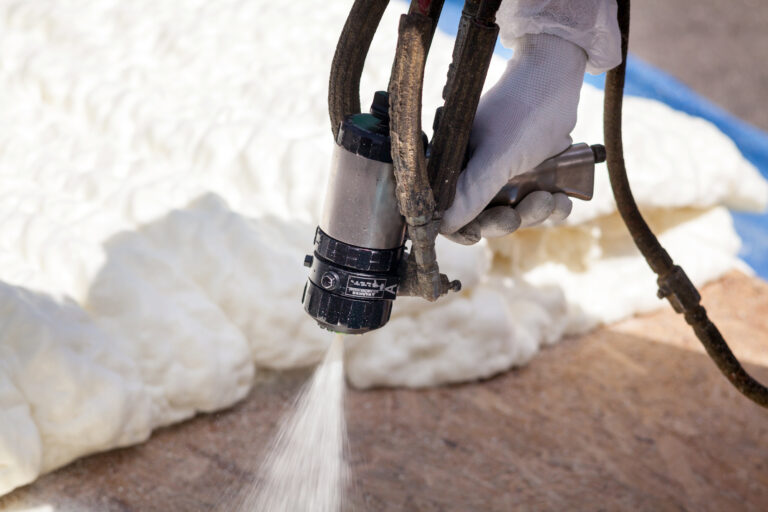 There are tons of different insulations out there, and deciding which is the best to save you on energy costs can be a pain.
One of the more commonly used insulation types is spray foam insulation.
It can get a bit costly, however, and if you don't know what it is then comparing it to standard insulation is a fool's errand.
Let's dig right into the meat of the matter and discuss what spray foam insulation is, how it works, and whether or not it's the right choice for your home.
What is Spray Foam Insulation?
Spray foam insulation is a foam spray made of polyurethane which is placed inside the walls of a home or place of business instead of one of the other usual methods of insulation.
It comes in two forms: closed cell and open cell.
Closed cell spray foam is much denser than it's open cell counterpart. This is measured by the "R-value" which is given to the insulation. Higher R-value… denser foam and more resistance.
The density of the foam prevents moisture from passing, can hold off drafts, and still acts in the usual manner of insulation.
Open cell foam sprays are much less dense and used less frequently. However, they're able to expand once sprayed which makes them an excellent option for those who are trying to get in nooks and crannies.
A professional installer with real-world experience is quite likely to use both types depending on the area in the home. That's the case for both new constructions and for those who are retrofitting homes with a different insulation type already.
How Does Spray Foam Compare to Fiberglass?
The easiest way to compare any form of insulation is to place it side-by-side along what most of us know: fiberglass insulation.
Compared to fiberglass, spray foams offer a lot of advantages.
Take a look at the following:
Foam is more energy efficient
The R-Value of closed cell foam is 300% that of fiberglass
It's estimated to last for 80 years
It stops air and moisture from getting in
Adds to the structural integrity of the building itself
Foam spray frequently has a fire-retardant additive
It also costs quite a bit more, which is the biggest reason that it's not being used as the gold standard in new construction these days.
If you're looking to make your home more energy efficient then you'll want to evaluate the costs. The savings of the higher R-value foams and longer lifespan of foams will more than make up for things over the lifetime of a building.
Basically, spray foam insulation is superior to standard fiberglass insulation in pretty much every way but it costs more.
The Professional Installation Process
There's one other advantage that fiberglass has: it's easier to install for the person who can work on their own home.
Most people will opt for a professional installation of their spray foam insulation since it goes through a much harder installation process.
The actual process inside the wall is a chemical one. Two compounds are combined within the wall in order to form the foam itself.
These compounds are an isocyanate and a resin with a flame retardant addition. Both are heated to a quite high temperature and then sprayed together into the space between the walls.
They're mixed in a spray gun. Electronics make sure that the proportions are correct for the end product and that the temperature is appropriate for the full chemical reaction to take place.
Simply put, spray foam insulation isn't a DIY job. It requires specialized tools and compounds as well as quite a bit of expertise.
Should You Retrofit Your Home?
Many people, especially those in extreme climates, have been switching over to spray foam insulation in recent years.
The advantages are pretty immense and the process will pretty much pay for itself by the time that the foam has reached its "limited" limit. Remember that most foams are rated to last for around 80 years after all, while fiberglass has an upper limit of two decades and will begin to lose it's much lower R-value within a few years.
It's primarily the energy savings which are of benefit to the person who decides to retrofit their home, but the comfort which can be gained shouldn't be underestimated either.
There are some cases where, even if the money is present, retrofitting really isn't viable. This is primarily in the main walls of the building, where the only time that it would be a good idea is when a complete renovation of the rest of the building is underway.
Attics, on the other hand, can receive a lot of benefit from the proper application of spray foam.
Most homes lost a ton of energy through the roof. Heat rises and that means most of the energy from a furnace is lost through the roof during the colder months.
Spray foam insulation is best done as a partial retrofit in most homes unless the entire property is under reconstruction.
Finding the Right Contractor
As you can see, installing spray foam insulation is a remarkably complicated process and it's not something you can cobble together at home. It's also not the right fit for every home, but there are a ton of options for those looking for energy savings in the home.
If you're wondering if it's the right option for your home, then it's time to talk to a professional and see what can be done.
If you're in the Connecticut or New York area then contact us and let's see what we can do for you.
---