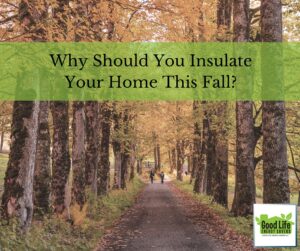 Happy First Day of Fall! We're excited for the crisp autumn air. As you adjust to the new season, it's important that you take steps to make sure that your home is prepared for the cooler weather too. Here are a few reasons why you should insulate your home this Fall.
Why Insulate?
You'll Save Money – A home that is well insulated is also more energy efficient. You'll save money because you won't have to blast the heat as the outside temperature drops.
It Pays for Itself – By adding insulation to your home, you're greatly reducing the amount of energy that it takes to keep your home a comfortable temperature, especially now that the weather is getting cooler! With efficient insulation like spray foam or injection foam insulation, you will notice a drop in your utility bills.
You'll Be More Comfortable – Do you ever notice that certain rooms in your home are cooler than others? Keep your whole home comfortable by making sure that your walls and attic are sealed with insulation.
When was the last time you checked your home insulation? Whether you are planning a remodel or you're simply looking to save energy this Fall, home insulation can help both new and retrofit home improvement projects. Visit our website to learn more about our services our give our office a call at 203-297-6337.
Don't forget to follow us on our social media pages for more energy saving tips and insulation news.
LIKE us on Facebook
FOLLOW us on Twitter
ADD us to your circles on Google+
---