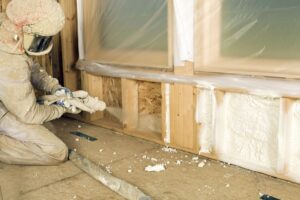 With Autumn just a few weeks away, it's time to shift your home improvement projects indoors.  Spray Foam Insulation is one of the best ways to insulate your home as the weather starts to cool.
Why should you add spray foam insulation to the walls of your home this fall?  Here are a few of the most popular benefits spray foam insulation has to offer.
Reasons to Add Spray Foam Insulation:
It's Energy Efficient.  Spray foam insulation improves your homes energy-efficiency by keeping your home a comfortable temperature no matter what the weather is like outside.  By sealing your home with spray foam insulation, your heating and cooling system won't have to work as hard to keep your home comfortable.  It prevents air leaks, and offers a far more comfortable living space.  Not to mention, adding this high performance insulation to your home helps the environment and reduces our dependency on foreign oil, too!
It's Economical – We're always looking for ways to tighten our budgets and save money.  Fortunately, spray foam insulation is a simple way to save money without making a drastic change to your every day lifestyle!  By adding spray foam insulation, you'll save money on your heating and cooling costs overall.
It Offers a Sound Barrier – Spray foam insulation doesn't just stop air leaks in their tracks, it also helps insulate the noises in your home!
Are you ready to improve your home with spray foam insulation this fall?  Visit our website to learn more about our services our give our office a call at 203-297-6337.  Our professionals will discuss the insulating options available to you, as well as whether or not spray foam insulation is the right choice for your family's needs.
Don't forget to follow us on our social media pages for more energy saving tips and insulation news.
LIKE us on Facebook
FOLLOW us on Twitter
ADD us to your circles on Google+
---