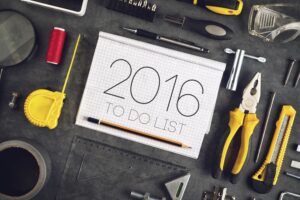 Happy New Year's Eve!  As we say goodbye to 2015, it's time to start planning all of your projects for the New Year.  Do you have any home improvement projects in mind?  Here are a few projects you should add to your list for 2016.
2016 Home Improvement Projects:
Add a Fireplace – There is nothing more cozy that a warm fire on a cold night.  Adding a fireplace to you home can also increase your home value!  According to the National Association of Realtors, a fireplace can increase your home's value by as much as $12,000!
Update Your Front Door – Your front door can make a big first impression.  It can also be a source of heat loss/gain in your home!  Improve your curb appeal and the value of your home by updating your front door this year.
Remodel Your Bathroom – Updating your bathroom can significantly improve the overall value of your home.  It can also improve home functionality.  We spend more time than we realize in the bathroom!
Home Insulation – Many homes are not well-insulated.  This comes as a surprise to many homeowners!  Check your home insulation in your walls, attic, and crawl spaces. You may benefit from reduced energy costs in 2016 by making your home more insulated for the New Year!
Ready to add insulation to your home in 2016?  Call 203-297-6337 to speak with one of our professional spray foam insulation experts.  You can also visit our website to learn more about the benefits of spray foam insulation and the other home insulation services we offer.
Don't forget to follow us on our social media pages for more energy saving tips and insulation news.
LIKE us on Facebook
FOLLOW us on Twitter
ADD us to your circles on Google+
---