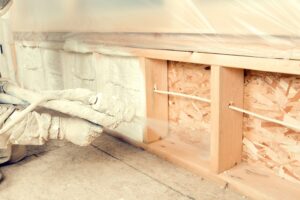 Most homes can benefit from improved energy-efficiency.  If you live in an older home, it might be time to have your insulation inspected.  Homeowners should check the attic, walls and floors of their home to make sure that the insulation is providing optimal  insulation for their home.
Why is it so important to add more wall insulation to your home?
Many older homes don't have enough insulation in the walls.  Older fiberglass batting can leave air leaks that leave you with high energy bills during the winter months.  That's why it's so important that homeowners check their wall insulation, even in existing homes.  With spray foam insulation or injection foam insulation,w e can add additional wall insulation right alongside of the existing insulation.  You can improve the energy efficiency of your home by compressing old deteriorated insulation in the wall cavity.
Not sure if your home can benefit from new wall insulation?  Give us a call!  Our professional technicians can help you determine if home insulation will benefit you and your energy bills.
Learn more about Good Life Energy Savers and the services we offer on our website.  You can also give us a call at 203-297-6337.  Our professionals will discuss any concerns you may have about your home insulation and help you determine what the best choice will be for your home.
Don't forget to follow us on our social media pages for more energy saving tips and insulation news.
LIKE us on Facebook
FOLLOW us on Twitter
ADD us to your circles on Google+
---