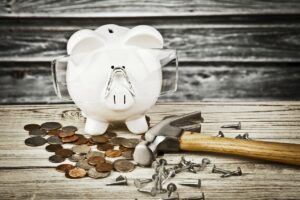 Home remodeling projects are an investment in time and money.  However, by investing in the right projects, you can make a more comfortable home, save money, and improve the overall value of your home.  Here are a few home improvement projects that offer the biggest return on investment (ROI).
Home Improvement Projects with a High ROI:
A New Front Door – A new front door offers a 98% return on investment!  It improves your curb appeal, requires minimal maintenance, and helps improve the energy efficiency of your home.
Home Insulation – In addition to making your home a more comfortable temperature, you'll also reduce your monthly utility bills.  Overtime, this can add up to significant savings!
New Siding – New siding also adds curb appeal to your home.  It offers long term savings and improves the value of your home.
Kitchen Remodeling – Making a few minor updates to your kitchen can offer a big ROI.  Update your appliances, reface your cabinet doors, and add beautiful countertops to significantly improve the value of your home.
Learn more about Good Life Energy Savers and the services we offer on our website.  You can also give us a call at 203-297-6337.  Our professionals will discuss any concerns you may have about your home insulation and help you determine what the best choice will be for your home.
Don't forget to follow us on our social media pages for more energy saving tips and insulation news.
LIKE us on Facebook
FOLLOW us on Twitter
ADD us to your circles on Google+
---