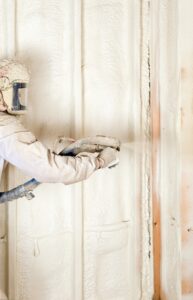 Many homeowners love to get their hands on DIY projects.  They're a great way to save money and they sometimes leave you with a strong sense of accomplishment and pride.  However, there are certain projects that are best left to the professionals — and insulation is one of them.  When handled improperly, not only is insulation ineffective, it can also be dangerous.
Why should you leave insulation to the professionals at Good Life?
There are many types of insulation available.  At Good Life Energy Savers, we use spray foam insulation, loose fill, tri-polymer and blown-in insulation.  Many unknowing homeowners opt for fiberglass – which is both bad for you and bad for the environment.  We can help you determine what type of insulation will offer the best insulating ability for your needs.  Whether you are looking to insulate your attic, your basement, or a retrofitted room, we are here to provide expert advice.
You want to optimize your savings.  If you're looking to insulate your home, you want it to be done efficiently and correctly.  By hiring a professional, you know that your insulation will be working effectively.
There is less of a clean up.  Our professionals work with insulation every day.  We know how to complete the process neatly and efficiently.  DIY projects can become messy!
Still not convinced?  Give us a call at 203-297-6337.  Our professionals will discuss any concerns you may have about your home insulation and help you determine what the best choice will be for your home.
Don't forget to follow us on our social media pages for more energy saving tips and insulation news.
LIKE us on Facebook
FOLLOW us on Twitter
ADD us to your circles on Google+
---