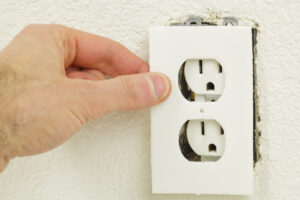 We all want our homes to be warm and cozy for the holiday season.  Before you turn up the thermostat – you might want to check your insulation first.  Not sure how to get started?  These tips will help you inspect and evaluate your home insulation.
Steps to Inspect & Evaluate Home Insulation:
Turn off the electrical power to your electrical outlets.
Remove the cover to your electrical outlet and shine a flashlight into the crack around the outlet box.  From here, you should be able to determine if there is insulation behind the outlet (and therefore, in the walls).
If you can, pull out a small amount of insulation.  This will help you determine the kind of insulation that you currently have in the walls of your home.
Check the outlets in various rooms around your home, including any on the floors.  While you may have insulation in one room of your home, you may be missing it in another.  Just remember to make sure that the electrical power is off first!
Learn more about Good Life Energy Savers and the home insulation services we offer on our website.  You can also give us a call at 203-297-6337.  Our professionals will discuss any concerns you may have about your home insulation and help you determine what the best choice will be for your home.
Don't forget to follow us on our social media pages for more energy saving tips and insulation news.
LIKE us on Facebook
FOLLOW us on Twitter
ADD us to your circles on Google+
---