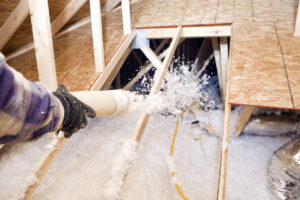 When it comes to doing your part for the environment — one of the most important things homeowners can do is reduce energy use.  Insulation helps create a thermal boundary in your home that separates your conditioned air from the air outdoors.  By adding insulation to the walls, floors, and attic of your home, you can keep your home warm on cool fall and winter nights more efficiently.
We offer a few different insulating products at Good Life Energy Savers, but one of the most eco-friendly options is Green Fiber insulation!
What makes Green Fiber Insulation so eco-friendly?
It's made of 85% recycled paper!  This means that new materials (trees, etc.) don't need to be processed in order to insulate your home.  It also helps reduce our waste by recycling what would otherwise be thrown into a landfill.
It's part of the Energy Star home sealing program.  Energy Star is committed to improving the energy efficiency of homes.  Since Green Fiber is part of this program, you know that you're doing all you can to improve your home's energy efficiency.
It's 38% better than fiberglass.  Blown in cellulose insulation can fit into any shaped space.  Unlike fiberglass batts that are restricting, blown in insulation can better insulate your home.
Interested in learning more about Green Fiber or any of our other home insulation products and services?  Visit our website to learn more.  You can also give us a call at 203-297-6337.  Our professionals will discuss any concerns you may have about your home insulation and help you determine what the best choice will be for your home.
Don't forget to follow us on our social media pages for more energy saving tips and insulation news.
LIKE us on Facebook
FOLLOW us on Twitter
ADD us to your circles on Google+
---