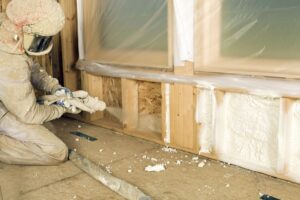 Did you know that it's Energy Action Month?  This October, it's time to improve the energy-efficiency of your home and save on home heating costs as we move into colder months.  This home energy checklist is a great way to see where you can improve your home energy costs this weekend.
Home Energy Checklist:
Check Your Water Heater – Your water heater temperature should be set to 120 degrees F.  This will help you save energy, while preventing scalding your hands in the sink or shower.  You should also make sure that your water heater has an insulating blanket.  This will help keep your tank from losing heat.
Turn off the Lights – It comes as no surprise that turning of the lights when you leave a room will help you save on your energy costs. Make sure you turn off the lights or install sensors to reduce the amount of time that your lights are on.
Insulate Your Pipes – Do you have exposed pipes in your basement or attic?  Make sure that they are insulated.  This will help keep them from freezing on cool nights.
Check Your Home Insulation – The walls and attic of your home are two of the biggest heat losses on cold days.  Make sure that the walls of your home are well insulated.  Spray foam insulation helps fill all of the nooks and crannies so that the energy used to heat your home isn't wasted.
Install a Programmable Thermostat – Programmable thermostats allow you to adjust the temperature in your home according to your schedule.  They help you save energy when you're not home, and keep your home comfortable when you are.
Change Your Air Filters – You should check your air filters to see if they are dirty every couple of months.  When you air filters are dirty, your HVAC system needs to work harder to get the conditioned air throughout your home.
Check out the Department of Energy website for a complete home energy checklist.  You can also give us a call at 203-297-6337.  Our professionals will discuss any concerns you may have about your home insulation and help you determine what the best choice will be for your home.
Don't forget to follow us on our social media pages for more energy saving tips and insulation news.
LIKE us on Facebook
FOLLOW us on Twitter
ADD us to your circles on Google+
---